The ability to utilise oocytes from juvenile animals for accelerated genetic gain and rapid multiplication of animals has significant implications for livestock improvement programs. 
Image reprinted with kind permission, JM Kelly
However there is great variation in response and oocyte developmental capability both between and within animals. 
Age

8 weeks

COCs

recovered

Cleavage

(%)

Blastocysts

Pregnancy

(%)

%

(of cleaved)

No. transferred/total

Calf 1

28

18/28 (64%)

67%

10/12

5/10 (50%)

Calf 2

11

9/11 (82%)

44%

4/4

2/4 (50%)

Calf 3

28

23/28 (82%)

78%

14/18

4/14 (29%)
Kelly et al Proceedings of the 14th International Congress on Animal Reproduction, Stockholm, 2:110 (2000).
Oocytes collected from 6-week old Merino lambs undergoing JIVET procedures indicate that the response both between and within animals can vary greatly (Kelly et al Theriogenology 63 (2005) 1876–1890).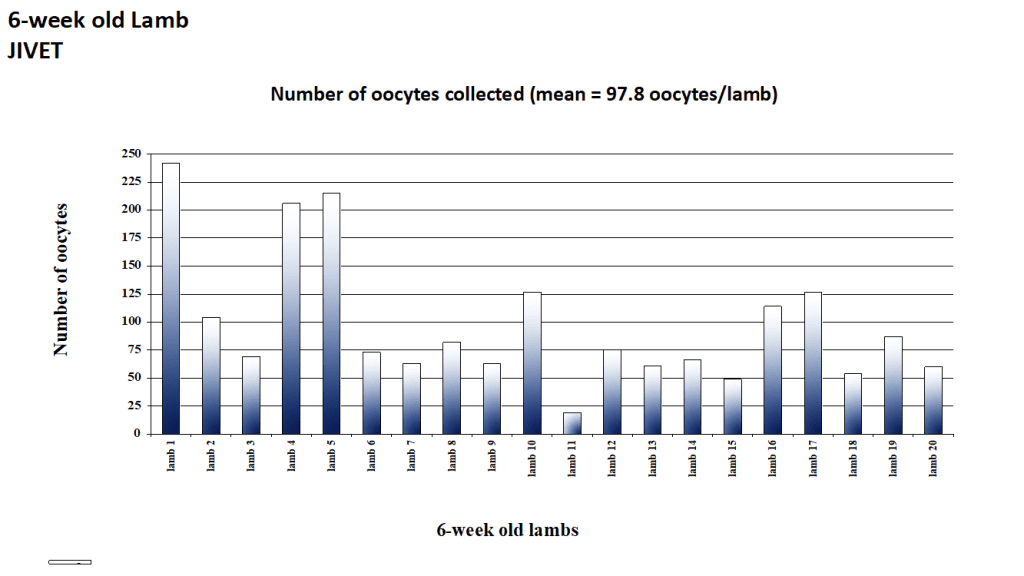 Selection of animals that will respond to a JIVET program and increase reproductive outcomes can be improved by assessing anti-mullerian hormone (AMH) levels prior to stimulation.   In Merino, AMH concentrations determined in ewe lambs as young as seven-days-of-age can be used to select donor animals for use in juvenile in vitro fertilisation and embryo transfer programs.  (McGrice, H., et al (2020) Reproduction fertility and development 32(4), 383-391).  This allows producers the time to manage ewes and lambs appropriately prior to the JIVET procedure.  
To understand more about JIVET, contact our team at admin@artlabsolutions.com